All B14 Sailing Dinghies for sale in the UK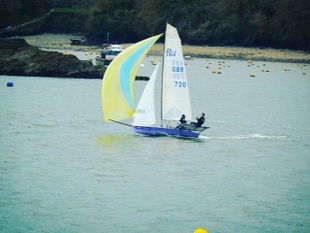 Great condition b14 Comes with: Brand new carbon mast Carbon bowsprit Racks Tramps All new controll lines 1 club set of sails 1 race set of sails Launching trolly Foils in perfect condition...
read more
Epic, epic boat.....as fast as the quickest skiffs but no trapeze and doesnt fall over at every corner. py 880. Effortlessly quick, stable and makes you smile from ear to ear. An absolute dog in a f1 but f3+ you are planing everywhere. 2 sets sails club level, aluminium rig, under and over covers. carbon tillers etc etc . Probably the best value boat bang for buck. Everyone should have a b14 at some stage of their sailing career. View at oxford Sc 5 minutes off A34. 1/2 the price of a 10 yr old laser...ridiculously good value....
read more
Length:
14'
Location:
oxford Oxfordshire UK
Price:
£800

View Details